Originally from Slovenia's north-eastern region of Prekmurje, and now living in the capital Ljubljana, Vanja Rendulić is a determined woman who has played a crucial role in the development of Translat. After eighteen years of persistent effort, highs and lows, and many challenges, Translat has grown into
one of the most successful globally oriented translation companies in Slovenia
. Vanja says that, today, she is able to schedule her working hours according to her preferences, and, as the interview begins, she tells us what has brought her to this point.
How has your change of role in the company affected you over the years?
I was part of "production" for many years, first as a translator and reviewer, and later as head of the translation department. Now I work in a management position. As chief operating officer I have to keep the work processes running smoothly, but also get out more and talk to clients, while at the same time being involved in finance and marketing. I am no longer so directly involved in linguistic work. However, I still make time to translate regularly, as this is a passion of mine that I wouldn't like to lose touch with completely. On the other hand, I don't miss being constantly tied down by translation work, as I've been translating since I was twenty-five, and I've spent the last ten years building translation teams and developing processes. These days I'm no longer bound by the tight deadlines that are so typical of translation work, so I can be a lot more flexible with my time. Often, I'll work evenings or weekends, but then, during the week, I can take a few hours off every once in a while. As Translat started to grow, my goal was to eventually train my team to the point where the work could run smoothly without me. I wouldn't change my current team for anything the world, as it includes warm-hearted individuals who understand the company's values very well. I can always count on them to strive for excellence, work as a well-coordinated team, and selflessly help one another. That is exactly the team spirit that we at Translat have been striving to achieve and working hard to create for eighteen long years.
I wouldn't change my current team for anything the world, as it includes warm-hearted individuals who understand the company's values very well.
Did you want to become a translator when you were a child?
Not when I was very young, no, but I've always loved reading books. Every night as a little girl I would beg my mother to read me fairy tales, and with time I learned them by heart. Eventually my mother got tired of reading to me every evening [laughter], so when I was five she started teaching me how to read for myself – it was a skill I quickly mastered, and soon I was able to read entire stories on my own. After that, I devoured books and, in the evenings, I would often fall asleep with my face in the pages of one. In my teenage years I would sometimes secretly read long into the night, without even realising when the morning came around and it was time to go to school. Fortunately, I somehow managed to stay focused in classes and catch up on sleep the following night. In primary school I started writing poetry, and then detective novels, which I kept changing all the time and eventually threw out because I was never satisfied with them. Today I regret getting rid of them; it would have been interesting to read them again. I also kept writing as a student, with my poetry having been published in various literary magazines such as Mentor, Locutio, Primorska Srečanja and others. My rich experience in reading and writing undoubtedly helps me today to be well versed at transferring meaning from one language to another. In high school I became interested in foreign languages, especially English, which I started studying in greater detail. Croatian is basically my second language, as my father is Croatian, born in Karlovac, so I practically grew up with it. So it's kind of logical that I'm a translator for English and Croatian today. As far as English is concerned, I am grateful for having had an outstanding English teacher at high school. She demanded a lot, had strict grading criteria and was very knowledgeable. I remember how I hoped at the time that one day I would develop a perfect British accent, just like hers. She continuously encouraged me to keep learning, and later I followed in her footsteps and enrolled at the Faculty of Arts in Ljubljana to study English. It wasn't until my third year that it became clear to me that translating was something I really wanted to do.
At that time, one of the professors from the Department of Education at my alma mater was looking for an English language tutor, and he contacted me. After a few hours of tutoring he entrusted me with an English translation of an excerpt from one of his scientific publications, which he went on to present at a teaching conference in Brussels. Later on, my roommate, a Slovenian language student, was working as a freelance proofreader for one of the well-known publishing houses in Ljubljana, where they were looking for translators, and she recommended me. And so it began. I translated one book on my own – it was called The E-Myth and it contained advice for small businesses, which I found quite useful later in life. I also co-translated a book. Not long after that, I got the opportunity to translate another book for a different publisher, and then a bill of quantities document for the reconstruction of the Ljubljana-based British Embassy residence. At the same time I took a job as a primary school teacher of English, all the while looking for a full-time job in translation. I finally found one at the Slovenian Ministry of Defence, where I worked for two years as a translator of political and military texts. At that time Slovenia's involvement in the Organization for Security and Co-operation in Europe (OSCE), as well as in NATO, was the talk of the town, and we translated a lot of military terminology. Although the work was very interesting, two years later I decided to move on and start my own business.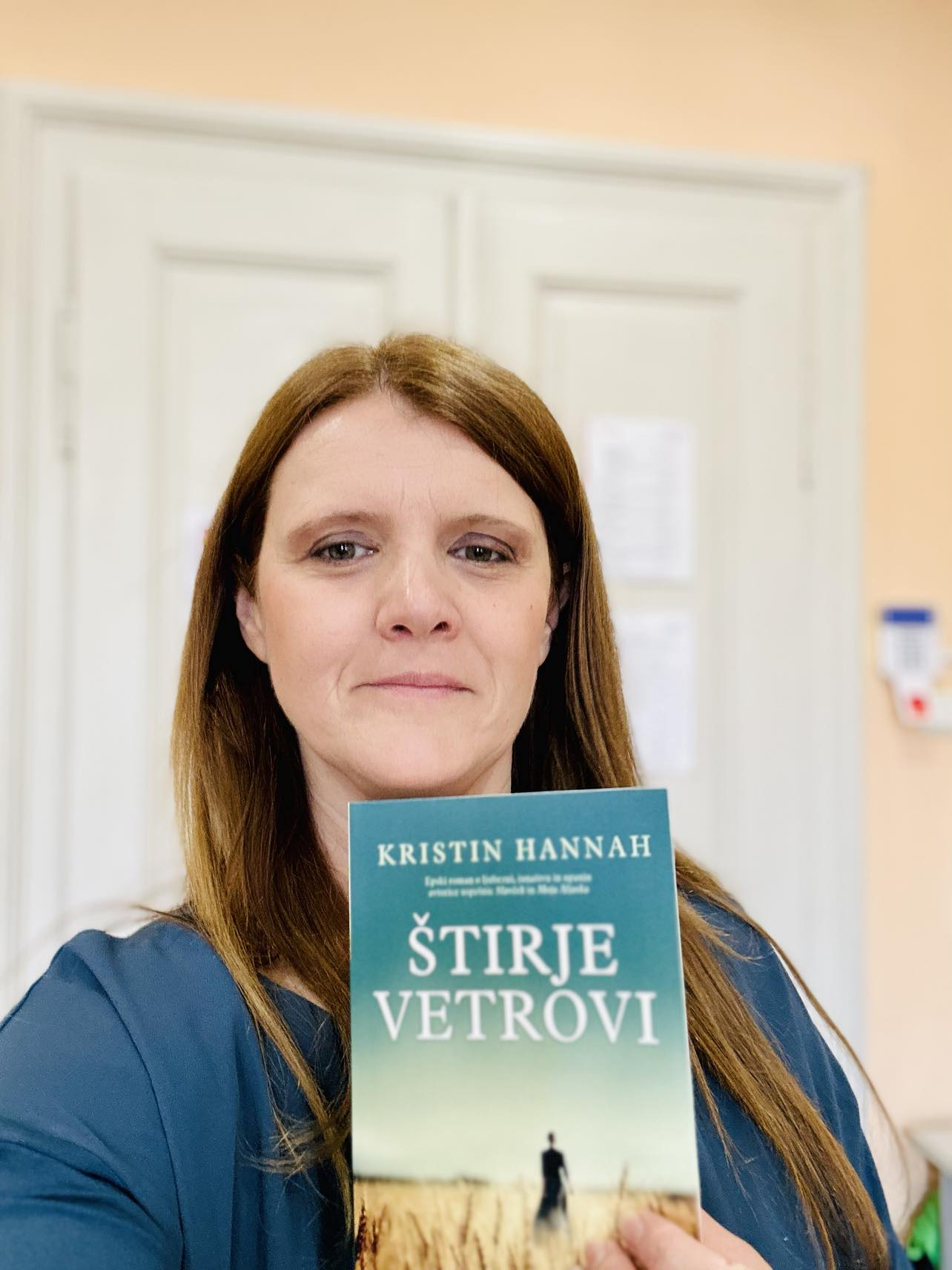 Have you always wanted to be an entrepreneur?
No, I never thought that there would ever be eight of us in the company, or that I would ever talk about Translat in the plural, like, "we" did this, or, "we" will create that. In the beginning I just wanted to do what felt like my life mission and become a freelance translator. When I was still a full-time employee at the Ministry of Defence, I registered as a part-time sole proprietorship, a type of small legal entity, which came in handy for issuing invoices and dealing with the other paperwork for my occasional translation projects. Doing freelance translation on the side, I had run into problems when clients wanted me to invoice them through a company. After a while, however, I realised I had too much on my plate, especially as I was soon to become a mother. The last straw came when, shortly after giving birth, I landed a major editorial and translation project of booklets, biographies of the world's greatest classical composers. They were to be published in Slovenia's leading daily newspaper at the time. The texts, which were translated from Spanish, had to be revised, proofread, adapted and edited before publication. The tight deadlines made the work very stressful, but it was also extremely interesting. After that, recommendations started to spread by word-of-mouth and clients would come to me independently.
Soon afterwards I realised I could no longer manage the increasing volume of work on my own, and there was also sales, marketing, finance, invoicing and other things to take care of. I started working with external translators, revisers and proofreaders, especially for large-scale projects of hundreds or even thousands of pages, and the team began to expand. Not long after, I joined forces with Gregor Medvešček, current co-owner of Translat, head of sales and chief executive officer. He is now my ex-husband – we parted ways personally several years ago – but he has remained a close colleague and still runs the company with me. I can say that Translat would certainly not exist today without either one of us, as we have both played key roles in its development.
What inspires you most about translation?
First, let me explain that translation is not a one-size-fits-all matter, but a rather complex one. The translator needs to be proficient in several skills at the same time, have an extremely rich vocabulary in both languages, and a very good general knowledge. In addition to all this, they must be skilled in analytical thinking, research and selective data extraction. In countries with large markets you can find translators who specialise in a single subject or field, for example medicine, engineering, pharmacy, forestry or chemistry. In Slovenia this is almost impossible, as the market is too small to sustain this kind of fragmentation, but it is possible for a translator to specialise in, say, natural sciences or social sciences.
Each person, as an individual, expresses themselves differently; the beauty and personal touch of each translator comes to the fore. I see something extremely poetic and noble in that, even if the text describes something like chemical or mathematical formulae, which isn't everyone's cup of tea.
I started out in the field of social sciences when I started my own company, but later I also took on translations in chemistry, pharmacy, veterinary medicine and even physics and mathematics. I like the fact that you never get just one translation solution for the same sentence. If you give a single complex sentence to a hundred different translators, you'll get a hundred different translations back. Each person, as an individual, expresses themselves differently; the beauty and personal touch of each translator comes to the fore. I see something extremely poetic and noble in that, even if the text describes something like chemical or mathematical formulae, which isn't everyone's cup of tea. The fact that you can have a certain degree of creative freedom, even with texts like that, gives me immense joy. There's also what is known in our profession as localisation. It's used, for example, when translating an instruction manual, where the translator has to take into account the legislation, units of measurement, as well as other rules and norms of the local region. Then there is transcreation, which goes a step further by adapting the translation so that it sounds natural in the target language, which ties in closely to translating fiction. It is also particularly relevant for marketing and popular science texts.
Have you ever thought of doing something else?
When I was deciding on my course of study I was thinking quite pragmatically, because out of all the subjects English was by far my favourite, so I knew even then that I would one day be active in the language field, but I didn't yet know how. My decision was certainly influenced by the aforementioned English teacher, who, in the first year of grammar school, recognised my talent and advised my parents to send me to an English summer camp in Škofja Loka, where there would be teachers from the USA and England. This was a novelty in our region at that time, as no such camps had existed during socialism. My parents accepted my teacher's proposal, and the rest is history, as they say [laughs].
Did you travel to any English-speaking countries back then?
No. I started travelling to English-speaking countries in 2009, as it took Gregor and me a few years to build a solid business. At first I travelled mainly to London, but later to other parts of the UK, too. I can't say exactly how many trips I've made to London because there have been so many that I've stopped counting. I've been lucky enough that in Ljubljana, where I've lived for the last thirty years, I've met many foreigners, who later returned to their own countries or moved elsewhere. So I have a few friends in London who are always happy to take me in, and I return the favour when they come to visit Ljubljana. I also like to visit other places in Britain, as well as other countries and continents.
For example, during my student years I visited the south coast of England and the central part of Scotland, where I later returned to twice, and in 2016 I fulfilled my lifelong wish and travelled to Haworth, home of the Brontë sisters.
For example, during my student years I visited the south coast of England and the central part of Scotland, where I later returned to twice, and in 2016 I fulfilled my lifelong wish and travelled to Haworth, home of the Brontë sisters. All three of them have not only made history as authors of fiction, but are also extremely important in terms of feminism and the position of women in literature, which was dominated by men during their time.
When I was there the museum located in the former parsonage, where the sisters lived with their brother and father, was closed for the winter, but they did offer small, exclusive guided tours. Only a handful of us were able to attend, as the number was limited to twelve. The guide took us behind the scenes of the museum, presented the objects in a special way, explained how they were being preserved and restored, and even allowed us to touch a few pieces, which was something I had never experienced in any museum before.
Alongside Jane Austen, Charlotte and Emily Brontë in particular paved the way for women authors of twentieth-century literary feminism. Charlotte's novel Jane Eyre established the figure of a free-spirited woman who resolutely challenges the social norms and survives entirely on her own, independent of any man to take care of her. In the novel Wuthering Heights, Charlotte's sister Emily created an extremely powerful image of a confident, somewhat wild young woman, who, although succumbing to the expectations of society and marrying a wealthy heir, is unlike most women of the time, completely free to make her own choices. Although leading to her ultimate downfall, it was quite unusual, not to say impossible, for a woman in the time of the Brontë sisters to independently choose a husband and be the master of her own life. In a way, all of these women writers paved the way for the female writers and artists who came after them, and further developed feminism in literature by elevating it to the next level.
Speaking of feminism, how do you see women in the world of business?
I think that women, just like men, are indispensable, not only in business but in society in general. But speaking strictly of business, I'd say that women bring a different, slightly softer dimension to it, and that we are a lot better than men at making intuitive decisions and sticking to our values. It is precisely because we are a good counterbalance to the male energy that we can work as a valuable driving force to push things forward. It means a lot to me to be a woman in the world of business, and I am especially proud to have recently become a member of OnaVe (English translation: SheKnows), an association co-founded by Marta Kos, that connects female professionals to encourage and promote women as experts in their fields. I think women should respect, help and support each other a lot more than we have been used to in the past. I myself have many role models in the business world – in addition to Marta Kos, for example, I am inspired by the highly successful Slovenian entrepreneur Tanja Skaza, as well as by foreign women entrepreneurs and other experts. I like to network and socialise with other women entrepreneurs, because sharing experiences on a female level can prove invaluable in any business.
What was the most pivotal year for you?
It was certainly 2005, because that was the year when I had to decide whether to stay at the ministry or to pursue an independent career. The second turning point came in 2013, when Slovenia experienced a major economic crisis. At that time, Translat was highly dependent on the Slovenian market, which gradually started to decline due to parallel events in the civil engineering industry. We realised that we needed to make a major change in our strategy to be better prepared for future crises, as our turnover had dropped by almost 30%.
Gregor and I sat down and had a thorough discussion about what we wanted to do with the company, i.e. whether to close it down, or to lay off a few employees, reorganise and try to raise more revenue.
Gregor and I sat down and had a thorough discussion about what we wanted to do with the company, i.e. whether to close it down, or to lay off a few employees, reorganise and try to raise more revenue. After thinking it through we realised that we wanted to keep Translat alive. After reviewing past projects we agreed that we'd invested too much time and effort and completed too many high-profile projects to throw in the towel. But the hard work had only just begun, because we were starting almost from scratch, as if tearing a house down and rebuilding it from the ground up. We made a list of job roles, broke down the workflows, created a sales and marketing plan and started to attend conferences abroad, working strategically on a global level. Today, Translat generates 80% of its turnover abroad and only 20% in Slovenia, and that certainly paid off during the first coronavirus lockdown. That was a time when turnover collapsed for many companies in Slovenia, but not at Translat, as our customers were mostly from overseas. Our customers can now be found on almost every continent, from Africa and Asia to Europe and America. I probably don't need to tell you how proud I am that we managed to do something like this, especially given the fact that on a global scale we are a very small company.
After the reorganisation I took on a slightly different position and started to shift my role from translator into team leader, and to mentor young translators who came to work for us. The mentoring is extremely important in the long term to maintain the good reputation of our company, not only in Slovenia but also abroad. From initially only a few language combinations we have since begun to offer translations into all the world's languages, thanks to a well-developed network of partners we have all over the globe, and we are particularly proud of this.
So today, in addition to myself, we have three project managers, two translators, a salesperson and an administrator in our in-house team, making a total of eight. This year we are planning to recruit new staff in administration and accounting.
What challenges have you faced on your entrepreneurial journey?
The first was when I started out on my own and had a baby shortly afterwards. At that time I had to decide whether to stay on maternity leave or to cut it short and take on a big project that I was offered. In the end I decided to use some of my earnings to bring in a nanny, thereby somehow managing to do both anyway. Even though I was working, I was at home with the child nearby in the mornings, but then in the afternoon I was completely dedicated to him, which seemed to me a good compromise.
The second challenge arose at the same time as the emergence of licensed software tools for computer-assisted translation, and then with the introduction of machine translation, which has recently become better and more accurate thanks to so-called neural networks. With the advent of these tools there were rumours that in a few years' time no one would need us translators anymore, but to date this hasn't happened and probably won't happen for some time. Machine translation is a result of the growing need to translate technical texts, and we translators still have a key role to play, as machine translation isn't yet at the level of humans, semantically or syntactically. In Slovenia we were one of the first companies to use machine translation because our clients pushed us to do so, but we also realised that we had to catch the wave of progress and keep up with the competition abroad. That's the way we think all the time at Translat – when one door closes we look elsewhere, and we have a contingency plan in place just in case, because business is very unpredictable. The entrepreneurial path is by no means an easy one, but I am grateful for all the challenges and experiences I've had, because without them I would not be who I am today.
When did you make the mental leap to become a true entrepreneur?
This leap happened in 2013, when Gregor and I realised that we needed help from experts and get some business training, so that we could stop acting like employees and start behaving like managers. We hired an expert and took a series of coaching sessions on how to run a business, which proved to be extremely useful. I am convinced that without this training Translat would not exist today. Many small entrepreneurs start a business because they want to do what they are really good at, but they don't have a strategy for running the business, which is crucial for its growth. Today, all our team members regularly attend training and coaching sessions to encourage initiative and proactivity, and once a year we close the company and have a meeting to discuss our mission, values, goals, plans and vision for the future. For a company to be successful, everyone in the company needs to be aware of its plans and goals, as well as what's important to the company and what its mission is. Also, more heads bring more knowledge. The biggest mistake a leader can make is to think that they are infallible and have it all figured out, while others only have to do as they're told. A good leader knows that they can learn a lot from a good employee, just as an employee learns from a leader.
Why the name Translat?
When I opened my sole proprietorship I thought that, in addition to the personal name that forms part of the official name of a sole proprietorship, it might be necessary to have a business name too, should the business grow and develop. I just had the vision, even then, that at some point I would change from a sole proprietorship (s.p.) to a limited liability company (d.o.o.). Twelve years on and we have indeed transformed into a limited liability company, and my vision has been realised. I also wanted the company name itself to describe what we do, not exactly spell it out in English, yet somehow still sound business-like. I came up with the name, and then Gregor and I said it out loud a few times. We liked the sound of it and decided to go with it.
Which values have been important to you from the start?
Quality, definitely. I myself was very meticulous in my translations and proofreading from the start, and I pass that on to others who come to work for us. I tell them what is really important to Translat – that we do not miss deadlines, and that we do not do merely average work but the highest quality work. With each new translator who came to us I would start by going through each individual sentence with them, introducing them to the work on a one-on-one basis. But later we developed a series of training courses for the in-house team, some of which I myself still run today.
The second and probably even more important value is taking care of people – our customers, and above all our own employees. I have never understood the bizarre concept that a supervisor must be feared, that they must always and at every step monitor their employees and their work processes, and count the exact number of hours someone has worked. If a company takes good care of its employees, listens to them and lets them be the best versions of themselves in the workplace, they will take good care not only of the customers but also of the company. But of course, clear rules need to be set and given to employees, along with the company values, so that they understand the reasons for the guidelines.
You also enjoy a few hobbies…
Yes, it's true, I love my hobbies and I can enjoy them to the fullest now that my son Maks is a teenager and doesn't need my attention as much. I sang in a choir for several years as a child, but then gave it up in high school. When I finished my studies and got a job, I experienced a growing desire to retrain my voice to the point where I could stand on stage and give a solo singing performance. When three years ago I lost a friend who was involved in music, singing in her own band, and who had been encouraging me to sing again, I promised myself at her funeral that I would overcome my stage fright and take singing lessons. Shortly after that, fate connected me with a really good singing teacher, an Australian living in Ljubljana. Thanks to her I have already stood on a stage a few times and made some studio recordings, which I regularly post on my YouTube channel for family and friends to hear. Apart from singing, baking and cake decorating are my "therapy". As far as the baking goes, I like the decorating step more than the baking, because I can express myself in my own, perhaps somewhat artistic way [laughs]. Recently my son and I also fulfilled a long-standing wish of ours and bought a Bernese Mountain Dog named Dante, so baking has been slightly neglected ever since, and nature walks with the dog have taken priority instead.
Shortly after that, fate connected me with a really good singing teacher, an Australian living in Ljubljana. Thanks to her I have already stood on a stage a few times and made some studio recordings, which I regularly post on my YouTube channel for family and friends to hear.
How do you see your future role in the company?
It's our wish that Translat will continue to grow and develop, employing warm-hearted and dedicated individuals who care about their own development as well as that of their colleagues and of the company. To this end, we set an annual measurable growth target, as we have done for each of the past five years, and diligently work towards it, going one step further each time. This is thanks to all the members of our team, as we all work together to keep the company stable and to steadily increase turnover as well as the number of projects and clients year after year. Given the results we have seen in recent years, I will certainly have to move away from translation and get even more involved in the management role. My wish is to work fully as the chief operating officer and leave the head of marketing position to another employee. However, I will never lose touch with translation, because it is my first love, without which Translat would never have existed. Because I've been translating various publications and literature as a freelance translator for more than two decades, besides running my own business, I do intend to go on devoting time to it in the future. To date I have already translated a few children's picture books, but also a good deal of more serious texts, ranging from doctoral dissertations and scientific papers in historiography to medical documents, as well as popular science and personal development books.